"Hi Chad,
In just five months since i started my Primed life, I am losing 13 kilos (since lost more and up to 30 pounds already).
I
stopped eating rice in the morning and in dinner
.
I also
stopped eating breads
and slowly avoid soft drinks.
Now I am more active than before… thank you Chad…
Best regards,
Tata."
Tata from Sarangani Provence used to lug around an excess 13 kilos (28.5 pounds). That's a lot. That's heavier than all of these text books of my daughter Lauren.
No wonder Tata is happier.
He has a lot more energy for his children Jana & Ian.
He is a better Dad.
He is living a better, more energetic life. Go Primed and life improves.
#primedforyourlife #teachyourchildren #eatrealfood #PrimedDadBetterDad #TataRocks #nehphilippines #healthycompanyisahappyone
"Dear Chad,
Thanks Chad for the great Filipino food recipes,  I'll try these at home.
Tata."
PRIMED PINAKBET RECIPE FROM PINOYRUNNER
My great Primed friend Arnold, aka Pinoyrunner, has another great Filipino recipe for us. Check out the excellent blog of Arnold here: http://pinoyrunner.net.
Ingredients:
1 Pinakbet Mix of pre-cut squash, eggplant, okra, bitter gourd, string beans, winged beans, tomatoes). (I personally minimize/avoid beans because they are hard to digest. – Chad).
1 onion
1 tomatoes
6 cloves of garlic
8 pcs Anchovies
1/4 squash cut into cubes
Primed Organic Virgin Coconut Oil
Himalayan salt and pepper to taste
Turmeric powder
Procedures: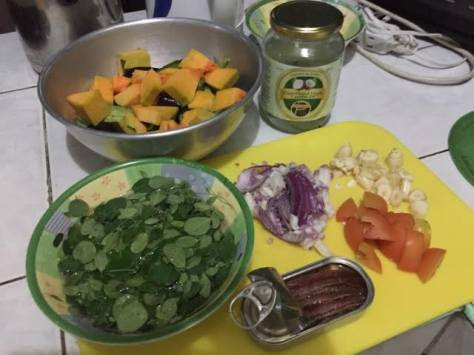 Sautee garlic and onion in Primed VCO
Add the Anchovies, stir to mix it with the onion and garlic
Add the tomatoes, stir until tomatoes are cooked enough
Add the Pinakbet Mix mentioned above
Stir and cook for 3 minutes
Add the Squash, stir and cook for 5 mins or until the squash is soft enough
Add a dash (the more the merrier actually) of Turmeric powder, salt and pepper to taste
Cook for 3 more minutes and then add the Malunggay
Stir, turn off the stove and cover for a few minutes before serving
Additional:
(1) The perfect way to enjoy this dish is with 2 or 3 boiled eggs. Sarap.
(2) Where is the rice? We need carbs right?
Well, rice is not as bad as toxic grains but it still spikes your blood sugar and insulin as much as pure, evil table sugar. See here for 9 reasons I will never touch TOXIC, evil, man-made MONSTROCITY, sugar spiking, leaky gut and brain inducing grains again.
Why not follow Pinoyrunner's recipe and have more quality carbohydrates and skip the cheapo carbos?
If you eat more sugar (white rice, bread, pasta, noodles) you are filling up on less nutritious food that actually makes you HANGRY. Your body thinks you are in starvation mode because the sugar gets shunted out off your blood stream  and is stored as fat on your body.
With less calories in your blood stream your brains thinks you are starving (you are) and FORCES you to eat more by making you hungry.
Eat real food with real flavor and you will be more satisfied, less hungry and HAPPIER.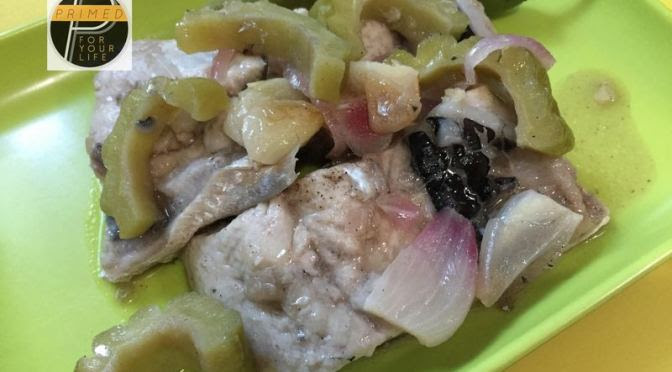 ARNOLD ZAFRA IS A PRIMED
FILIPINO

COOKING CHAMP – PAKSIW NA BANGUS
The key to happiness is having your s..t together so well that you then positively influence others around you and make a difference in your community.
Primed Arnold Zafra is an example of a coolFilipino striving to make a difference to enrich his life and those around him. And he is succeeding!
That is cool. That is happiness.
From Chad. – "Selfie with Primed Arnold Zafra & Primed Filipino Pakbet. So good mate. Recipe to be posted soon. Really tasty with eggplant, malunggay, okra, garlic, squash, tomato, Primed Organic VCO among other healthy ingredients. No need for rice as this dish is complete as is. I love it."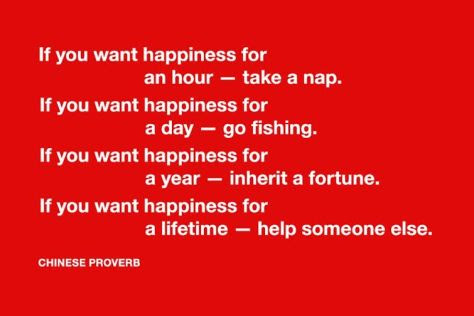 Arnold is a great Primed person who has felt the power of real food and wants to share his knowledge to others. Arnold rocks. Arnold will become a regular cook contributor to this blog because he cares.Love your work mate.
From Arnold – "Hi mate. Here is the recipe for another favorite Filipino dish known locally as Paksiw na Bangus. Done the Primedway of course."
Ingredients:
1 whole Bangus fish cut into 4-5 pieces
1/2 cup Apple cider vinegar
4 cloves of garlic sliced
1 onion sliced
Small size ginger smashed and sliced
Bitter gourd cut into small pieces
Primed Organic VCO
Himalayan salt
Pepper
Method:
Cut vegetables as shown below then Sauté onion, ginger and garlic in Primed Organic VCO.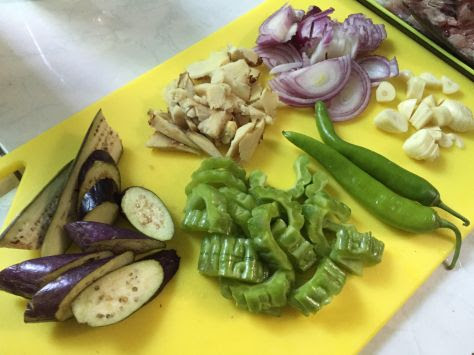 Add fish
Add Apple cider vinegar and bring into a boil

Add bitter gourd and/ eggplant.
Simmer for 10 mins or when fish is cooked.
Add salt and pepper to taste.
Additional:
Benefits of a Well Nourished Body and Mind
The Primed Lifestyle allows you to do the following:
– Maintain constant blood sugar (and insulin) levels at an optimal range, as well as a consistently great mood.
– Decrease your inflammation, aches and pains, illnesses, potential for disease, stress levels and health issues.
– Increase your metabolism, digestive health, confidence, energy, mental clarity, brain power, skin quality, immune system (so you ca better fight disease), sleep quality and happiness.
– Oh, you also RECOVER FASTER due to the lack of inflammation in your body by eating quality saturated fats, proteins and vegetables.
Please avoid cheap and nasty processed grains, sugars, soy stuff, low-fat crud and toxic vegetable oil as they hinder your recovery (and longevity)!