ALMI, ANNIE, CARL, ELAINE, FRANZ, JINKY, KELVIN, LAURIS, LEX, NELSON, REICHELLE, TROY AND WILLIAM STILL ROCKING THE PRIMED LIFESTYLE
I am loving the combined efforts of you all.  You are in my Gratitude Journal daily.
Gratitude will help you maintain (and improve) your excellent start towards being healthier and happier.
Primed Almi –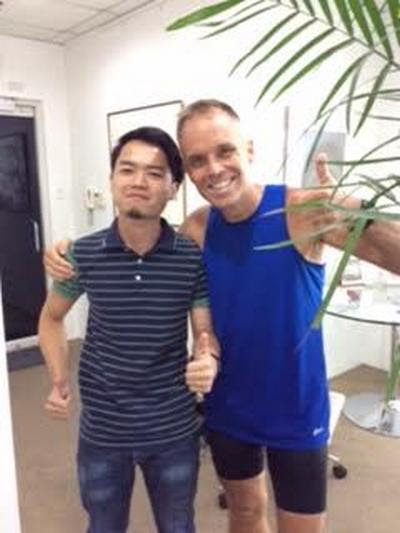 Almi is still feeling more energized, more alive, less sleepy, has no more headaches and a better sleep without a beer required before sleep any more.
Almi is rocking it and is also helping his Mum Irene to be healthier and happier through his excellent example.
Lets just get you in the sun a little more Almi. You are a handsome dude who will look even better with browner skin.
Primed Jinky –
Jinky is still enjoying walking a lot in the sun.  Eating less rice and more eggs is PERFECT.
Jinky said she has a lot more energy and is less sleepy.
I personally noticed the skin of Jinky is GLOWING. Having a better sleep is a crucial factors in having great skin. Jinky also said her period pain is less.
Jinky has a better body and brain. Jinky has more energy. Jinky must use these improvements to keep moving forward personally and to help others. 
Jinky's teeth also looked whiter and better.
Primed Lex – 
By getting even more sun, having no bread and prioritizing sleep YOU WILL LIVE LONGER AND BETTER. You are young and smart AND GETTING SMARTER.
When your body works better so does your brain. Diba?
Once Primed you appreciate that food is but one source of nourishment for our brains and not even the most important!
Primed Lauris – 
Lauris is doing great with no period pain, not hungry like before and is happy in knowing that her body and brain are working better.
Lauris is enjoying eating eggs, veg and fruit and no longer uses an umbrella in the sun.
Lauris will definitely see her eyesight improving as she gets stronger with a better immune system. That rocks.
Primed Reichelle –
Reichelle is getting there slowly and needs to put her foot on the accelerator a little. 🙂 This will help reduce / eliminate back pain caused by low energy / nutrient deficient carbage like bread, pasta and noodles. These food like disease agents are sugar in your body and HARM YOU. Sugar is inflammation and leads to disease. No more 3 in 1 coffee gunk. Please. 🙂
Have a delicious Primed iced coffee instead.
Primed Carl – 
Love that you are getting more sun bro. Cool. Carl has a fabulous color and looks good.
Almost all my meetings are conducted in the sun. And I AM WHITE! I do not need as much sun light exposure as a FILIPINO. It is in your dna and genetics. Di ba?
Primed Franz – 
Franz is rocking it. So happy and proud of him.
Franz says he feels so much better / stronger and is MORE PRODUCTIVE now. He has more focus, is loving the sun and walking in the sun. Franz is also down to just one stick a day. Very groovy mate.
Primed Kelvin – 
Kelvin is looking and feeling good. Kelvin is loving the sun, drinking more water and eating eggs.
Primed Nelson –
Cool you are less hungry and more energetic. Very cool. Being HUNGRY a lot is a bad, bad sign. It means your food is not NOURISHING and/or your environment sucks.
Primed Troy – 
Troy is enjoying more nature and sun. 
Troy's wife (Axis) is also drinking more water which is great. 
Primed Annie – 
Annie is doing very well with better skin, mood and immune system. Annie is healthier and enjoying more eggs for breakfast.
Please remember that we must nourish our brains and bodies with great food and positive thoughts. Our environment plays a critical role here too.
Primed Elaine – 
Elaine is doing wonderfully well. Yippie. Loving what you are doing Elaine.
Elaine is HEALTHIER. Elaine's clothes are more lose and there is no more PMS! Elaine is enjoying eating more eggs for breakfast. Cool. Elaine has more energy, is less sleepy and is HAPPIER. That ROCKS.
Elaine is eating less rice, will work on improving some other critical habits.
Primed William –

 
William has reversed HYPERTENSION. Yippie.
I hope you got the printed Primed Carbohydrate recipes. This is a great place to start when planning a meal. Please also see this about 30 Primed Sardine recipes.
Please know that eggs rock.
The Final Words:
Any way I can I will.

 
Simply text me at 0929-421-2148.
Or email me at chad.davis.1@gmail.com.
Or skype at primedforyourlife.
Cheers and hugs.